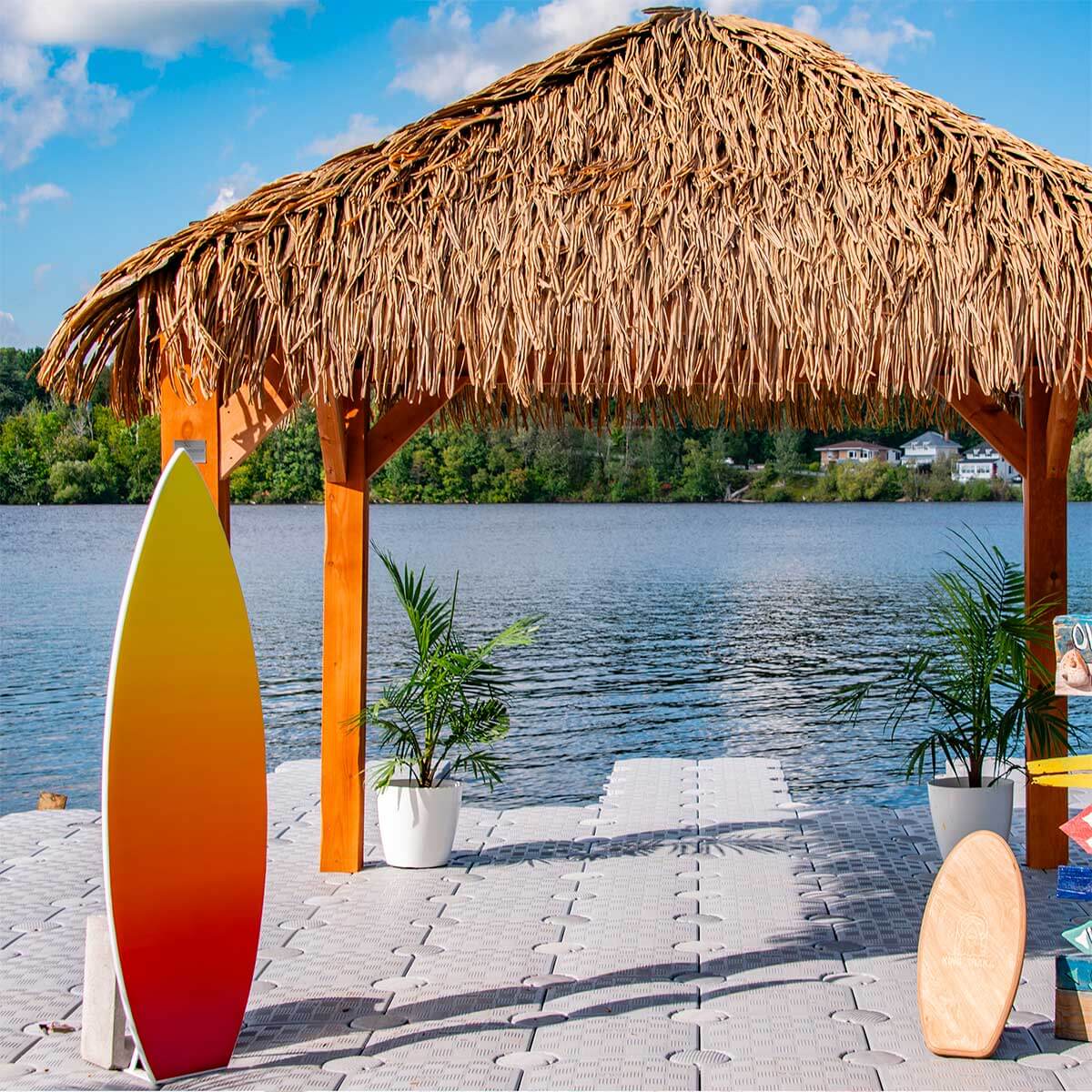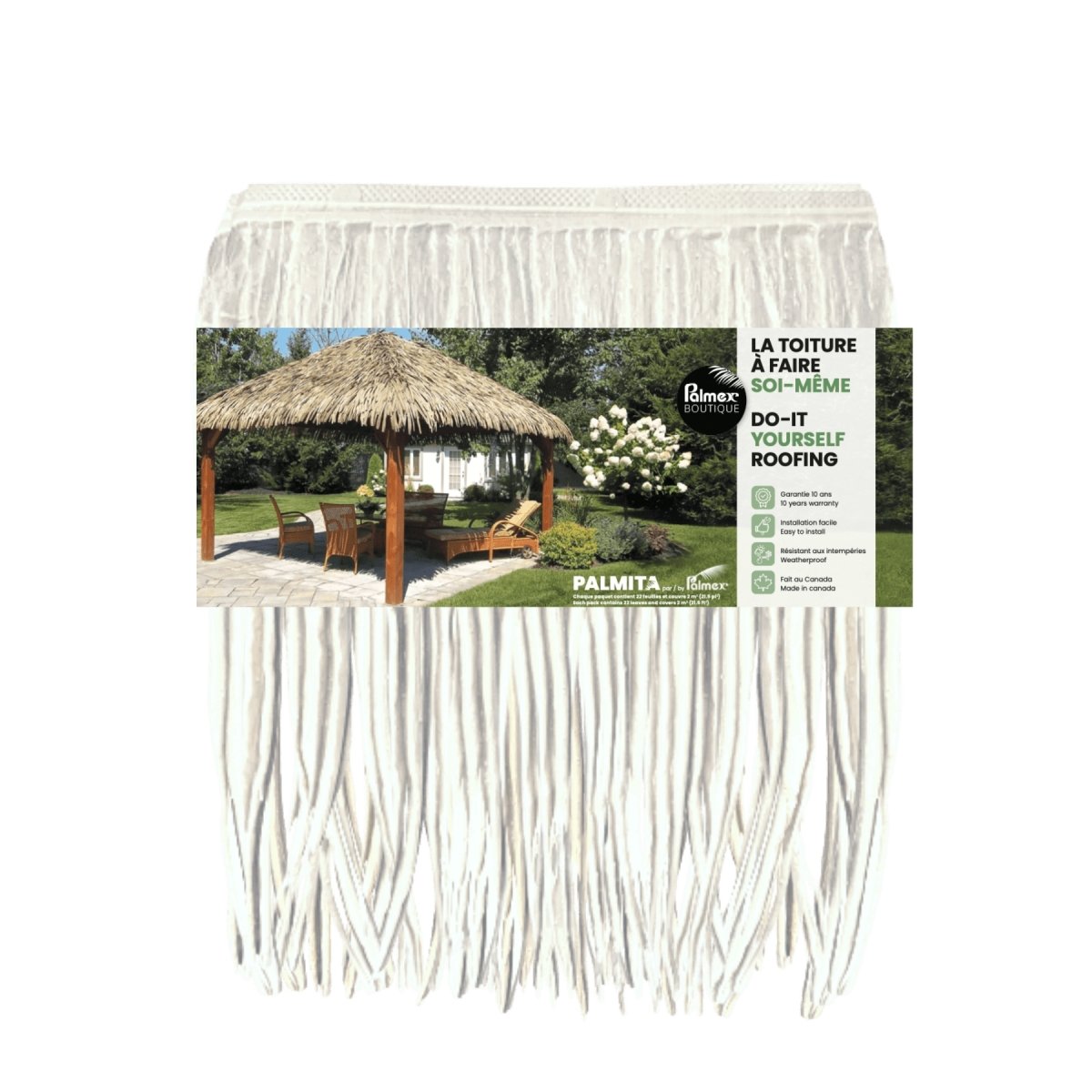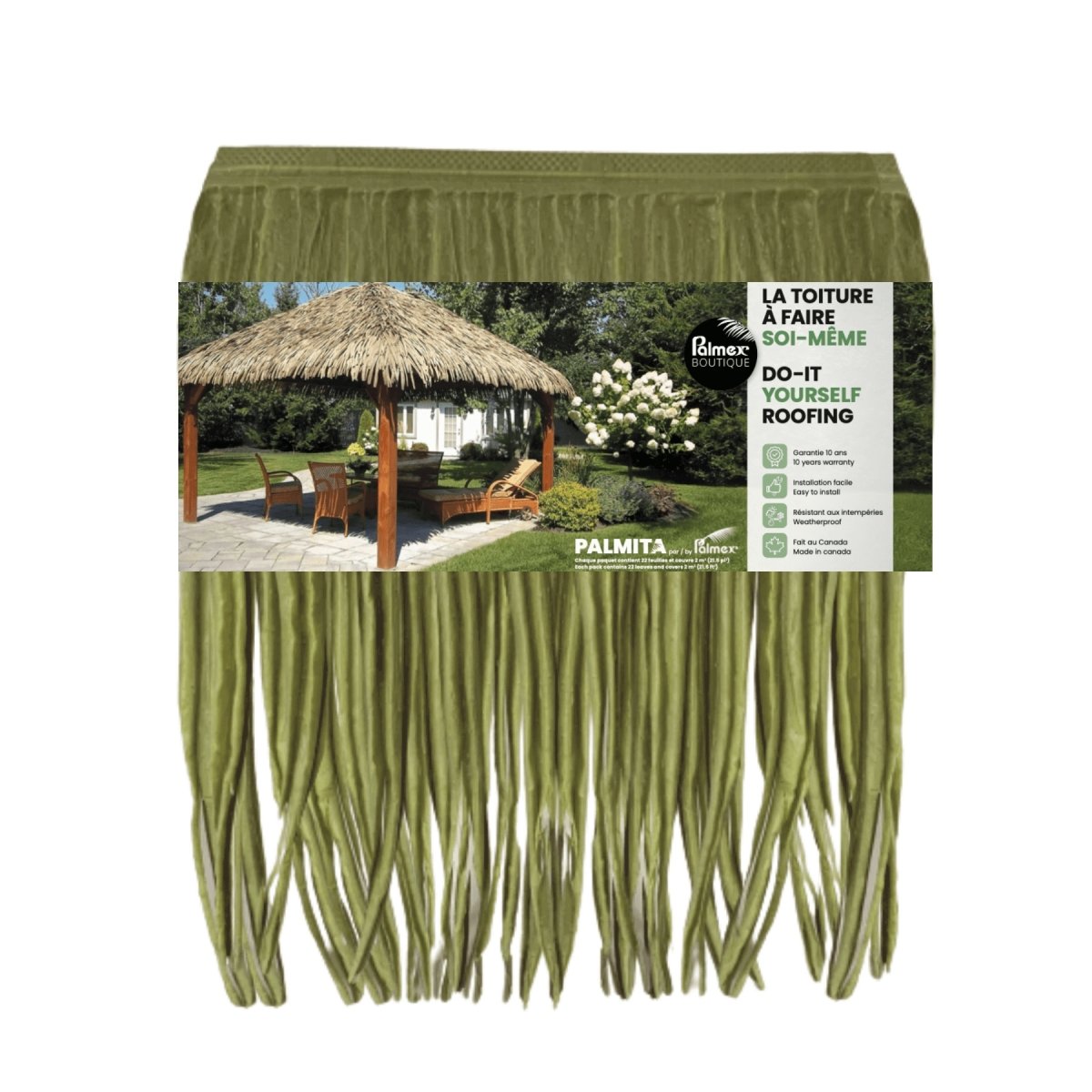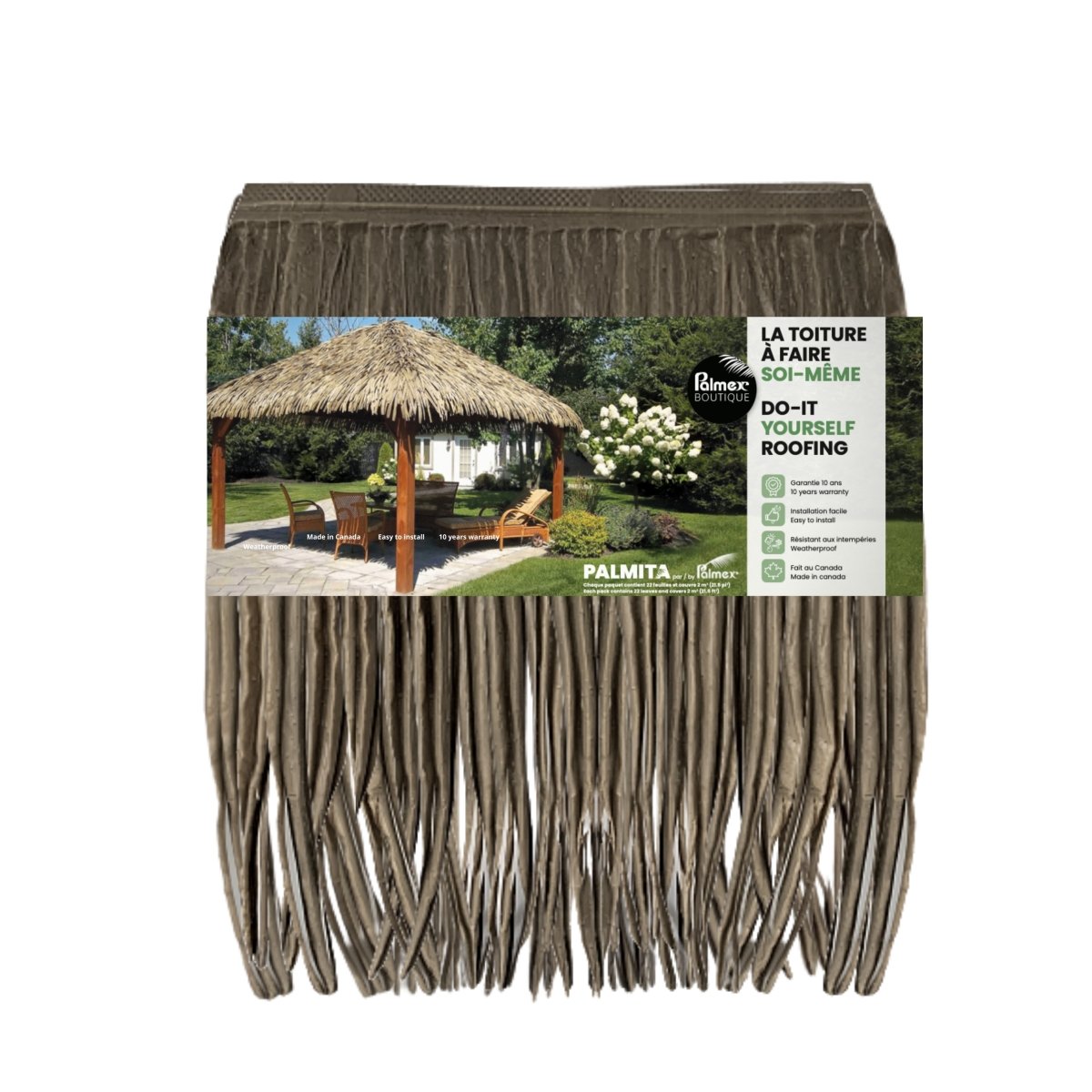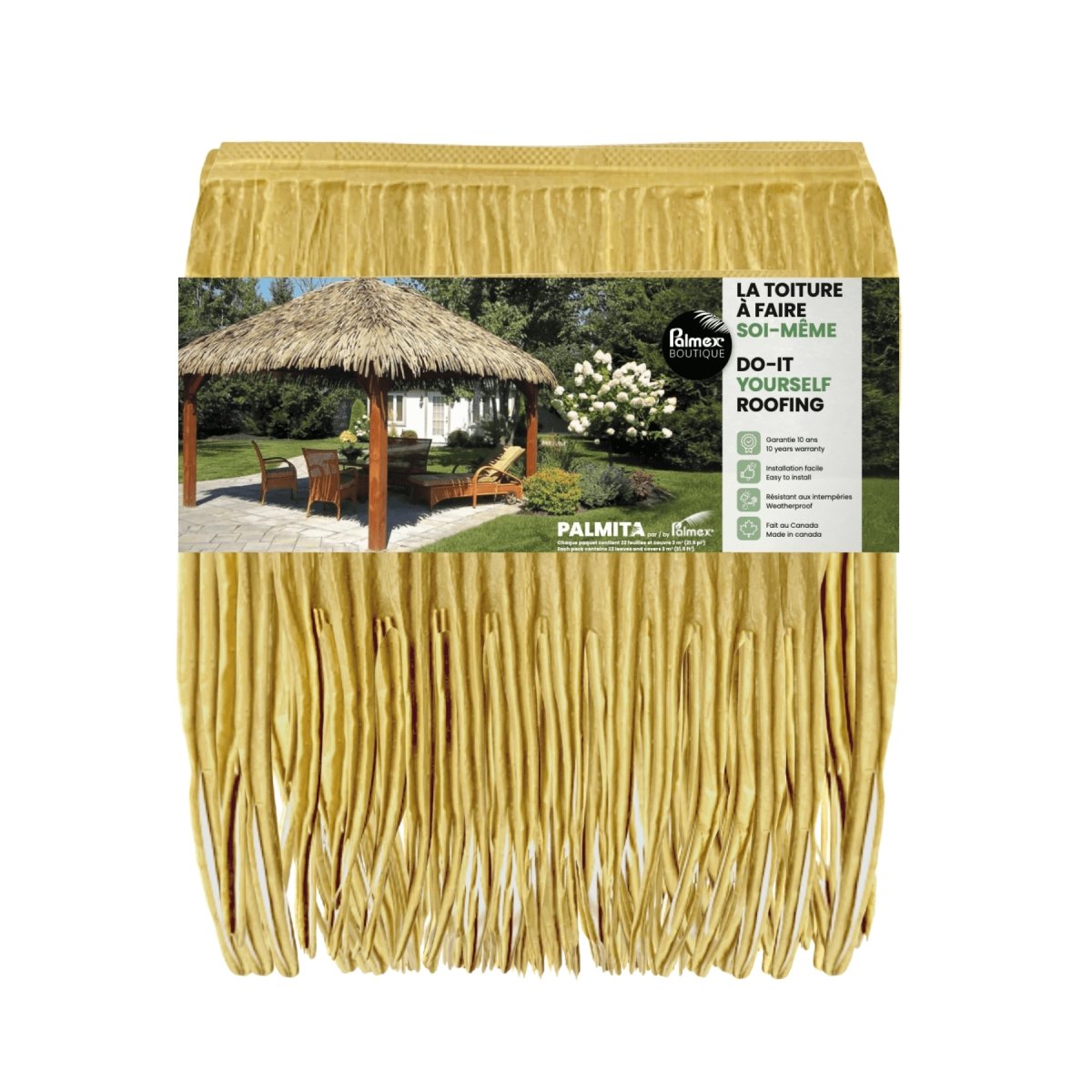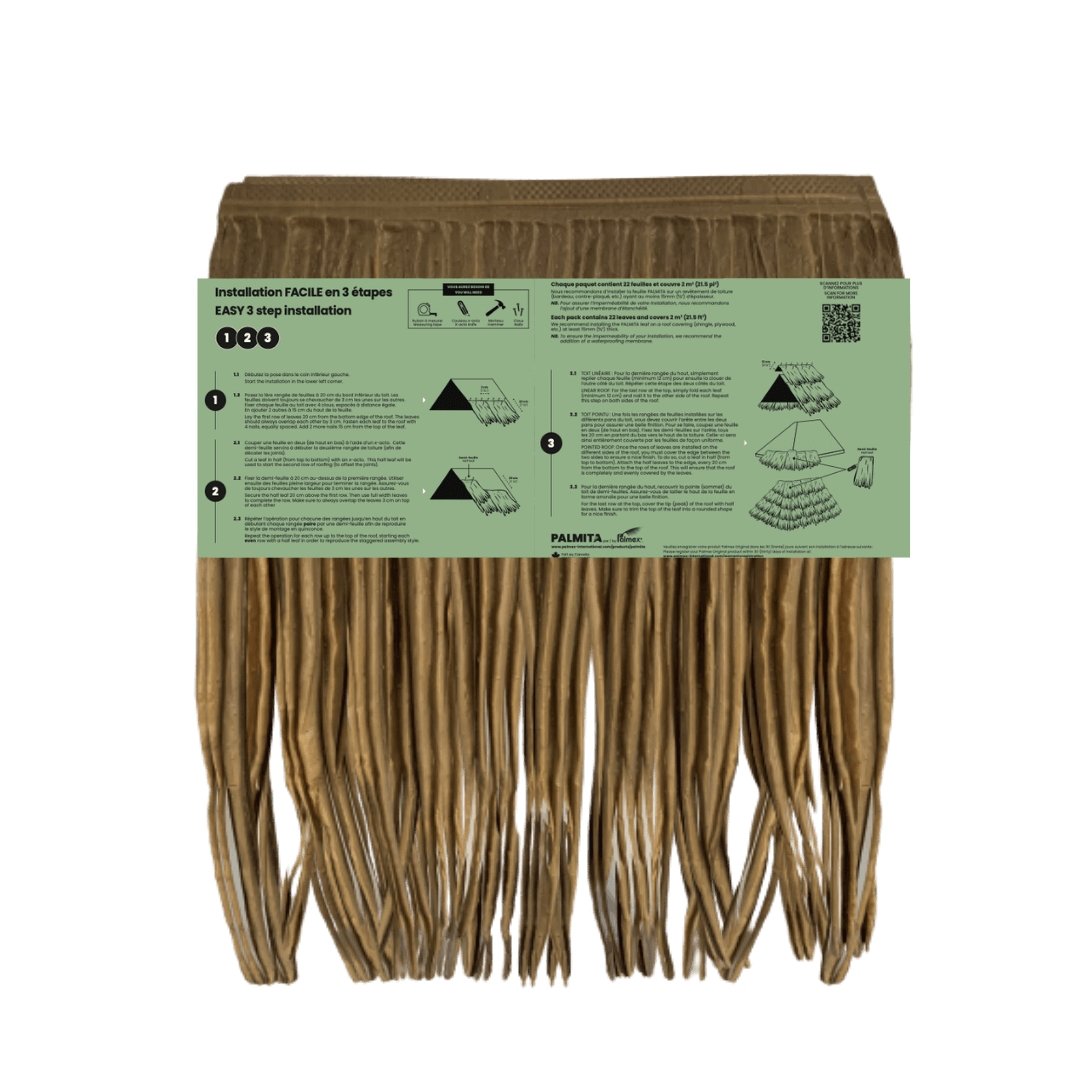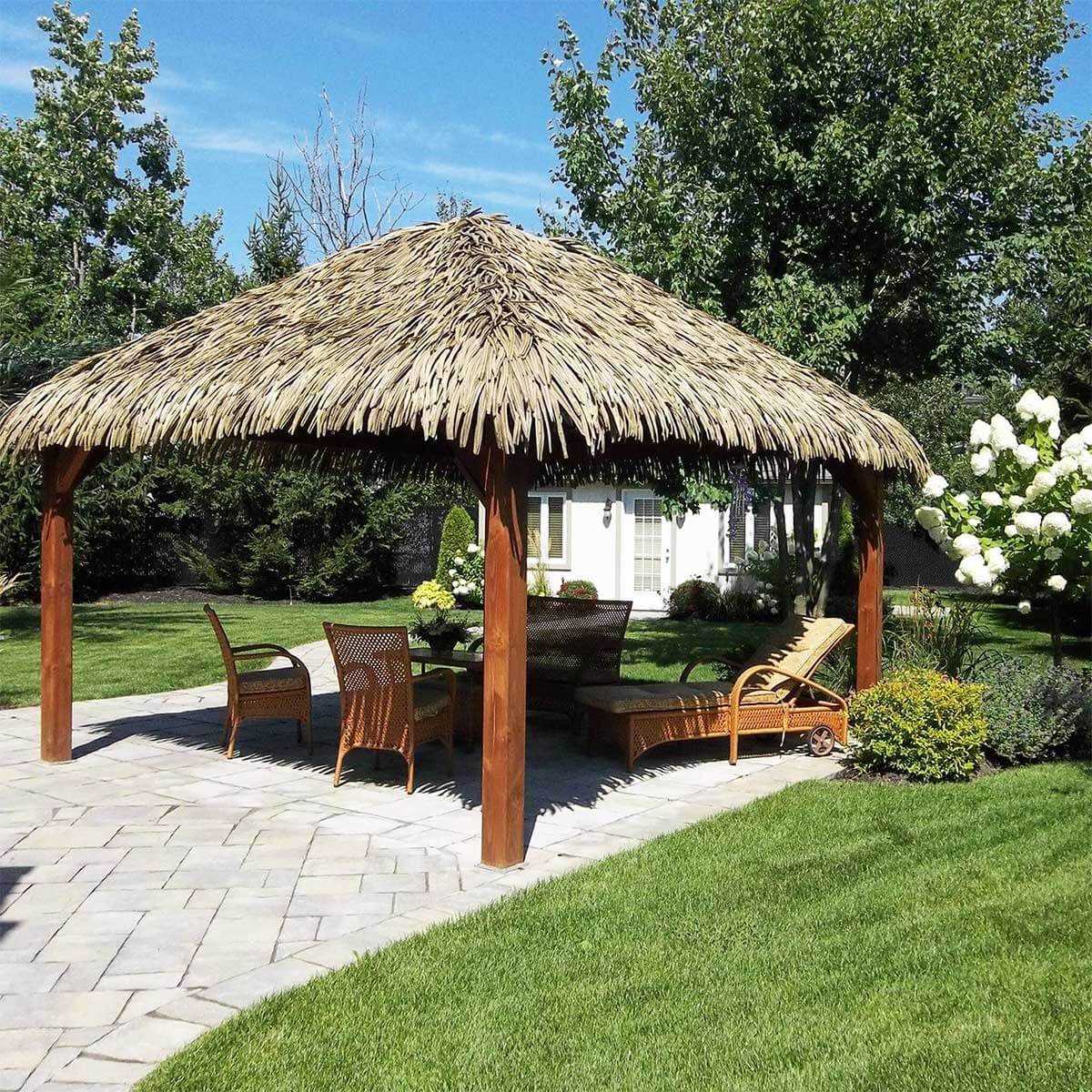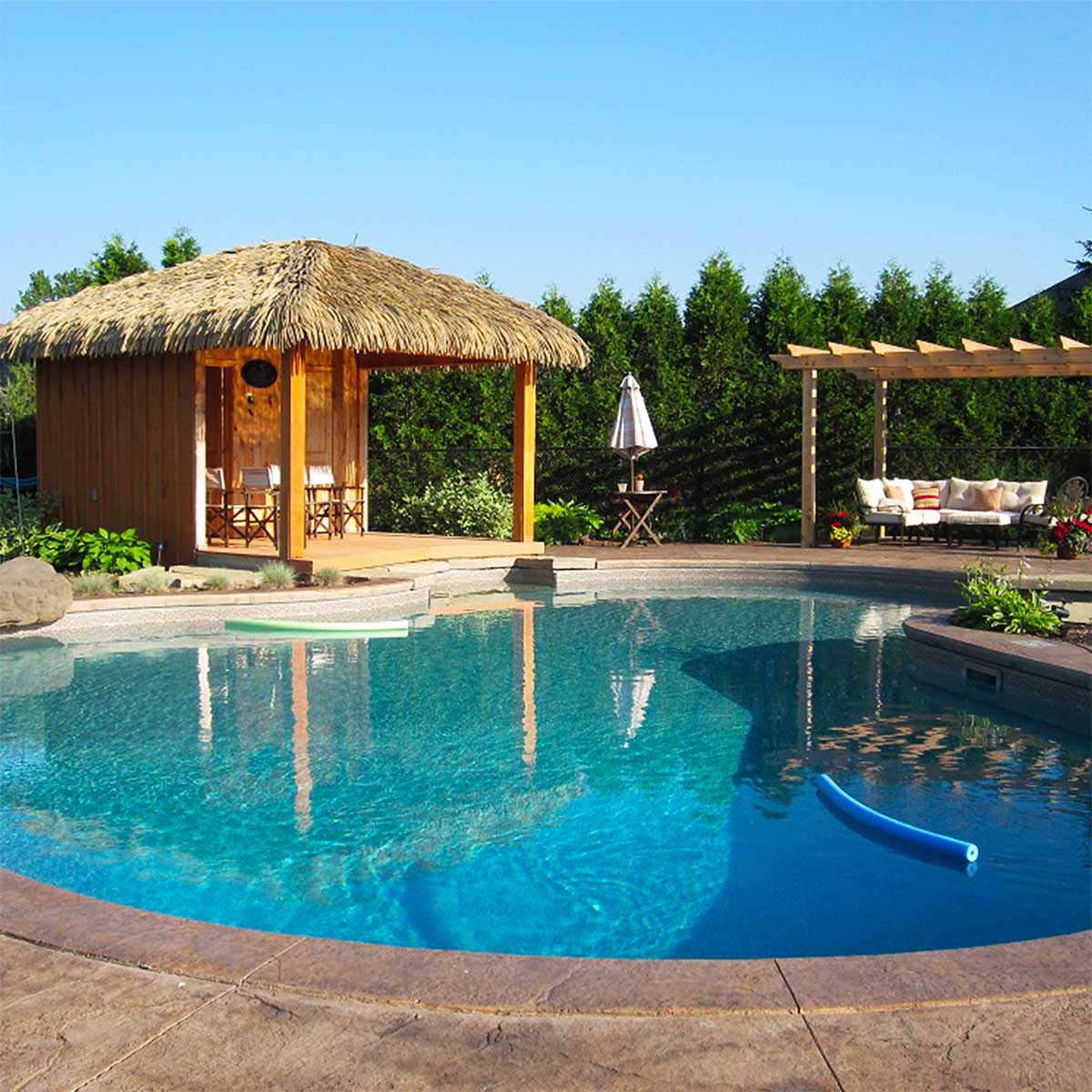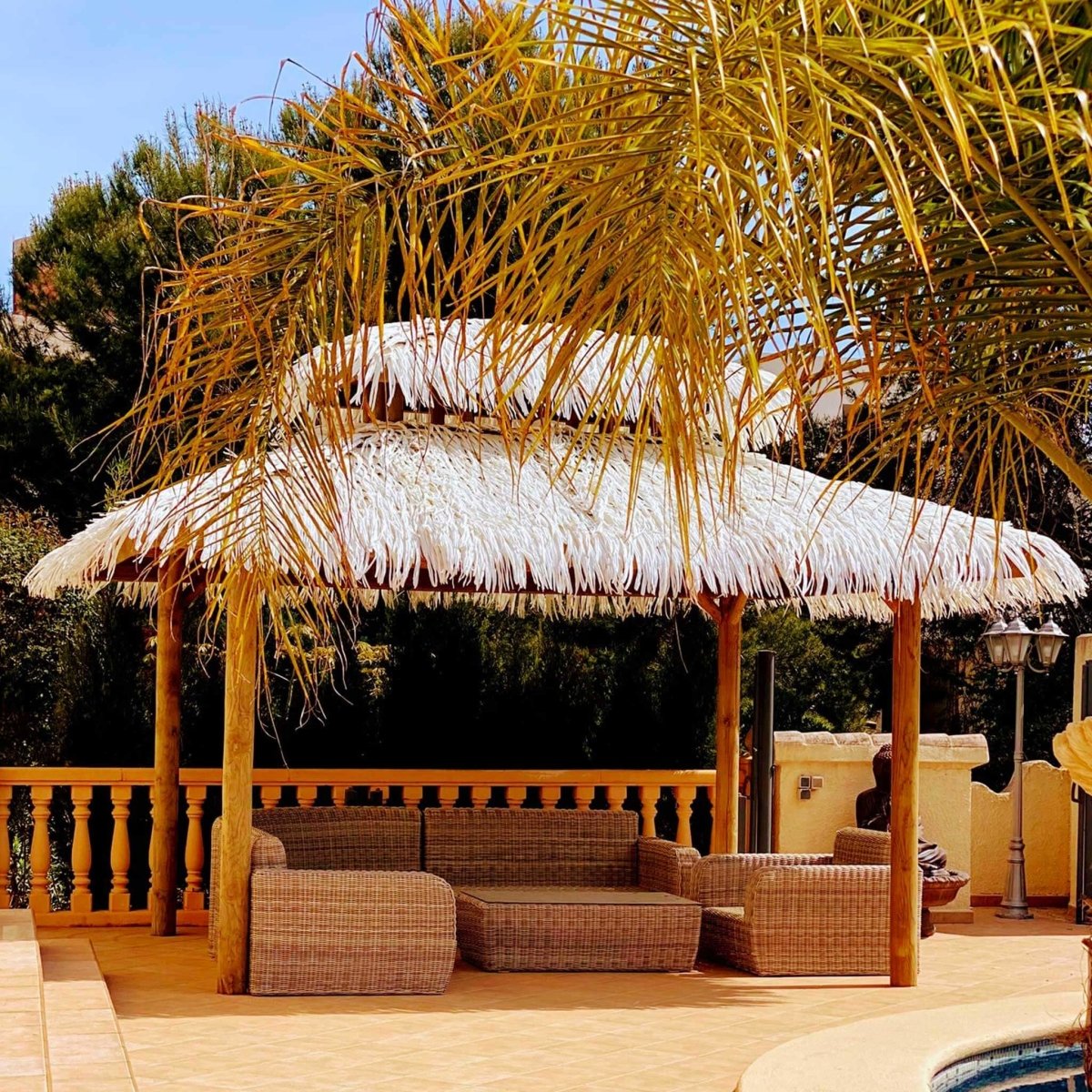 Roofing Palmita Rioha - 21.5 ft²
Regular price
$154.99 USD
Sale price
$154.99 USD
Regular price
Palmita synthetic palm leaves have been specially designed for your DIY projects, being easy to install. Whether you want to add a decorative tropical touch to your backyard or campsite, on the roof of your pergola or on the roof of a bar, Palmita is the exotic roof you need. Made of HDPE, the roof is resistant and requires no maintenance. Sold in packs of 22 leaves, covering an area of 21.5 square feet (2 square meters).

Made in Canada

Easy-to-install

Weatherproof

10-year warranty
3 steps installation
DIY installation is quick and easy, in only 3 steps
1. Start the installation

Place the first row of leaves starting in the lower left corner, 20 cm from the bottom edge of the roof. The leaves should always overlap by 3 cm. They should be secured with 4 nails spaced at equal distances, then with 2 more nails 15 cm from the top of the leaf.

2. Continue the rows

For each even row, cut one leaf in half (top to bottom) with a utility knife and use this leaf to start the row. Place the leaves 20 cm above the previous row and always overlap the leaves by 3 cm on top of each other.

3. Finalize the installation

For a linear roof, fold the leaves of the last row at least 12 cm to the other side of the roof and nail them there. Do this for each side of the roof.

For a pointed roof, cut leaves in half and attach the leaf halves to the edge every 20 cm from the bottom to the top of the roof.
Installation video
2-sided roof tutorial
Installation video
4-sided roof tutorial
How many sets do you need?
Depending on the type of project
Gazebo

For a standard size 10' x 10' gazebo, 8 sets will be needed to cover the area.

8 sets

Shed

To cover the roof of an 8' x 12' shed, 8 sets will be required.

8 sets

Umbrella

To cover the roof of an 8-foot diameter umbrella, you will need 3 sets.

3 sets

Tiki bar - Linear roof

For a linear roof of a 6' x 4' tiki bar structure, 2 sets will be required.

2 sets

BBQ Shelter

For a shelter for a 10' x 5' outdoor BBQ area or kitchenette, it will take 4 sets to cover the roof.

4 sets
Installation
What type of membrane is recommended for waterproofing?
Palmita is not guaranteed to be waterproof. However, to enjoy waterproofing with the Palmita roof, we recommend installing a self-adhesive waterproofing membrane first. Visit a hardware store for proper advice.
Who can I contact for a turnkey installation?
You can contact one of our distributors. It will be able to help you with the installation of your roof. For special projects, you can directly contact a distributor to take charge of your project from A to Z, including even the construction of a custom structure.
Sustainability
Is the roof resistant to different weather conditions?
Palmita roof is heat, snow and wind resistant. Made of HDPE (high-density polyethylene), Palmita does not conduct heat or cold.
We do not guarantee the watertightness of the Palmita roof, as it results from the installation made. However, the addition of a waterproofing membrane will ensure the roof is waterproof.
Does the color change over time?
The leaves are certified UV protected. However, the color will be slowly changed over the long term by the sun's rays. This fading will be minimal and will not affect the quality of the product.
Shipping
Do you ship internationally?
For the moment, we ship exclusively to Canada and United States. For special shipping requests, please contact us directly or contact one of our distributors present in your area.
What are the delivery times?
Orders are normally delivered within 2 to 3 business days in Quebec and Ontario. For United States and other regions in Canada, delivery times can be up to 9 business days.
We process orders on the first business day following the order date.
How can I track my order?
When your order is processed, you will receive an order confirmation email. A second email will be sent to you when your package has been shipped, containing your tracking number.